Simple Banana Whey Protein Pancakes Recipe  
Simple Banana Whey Protein Pancakes Recipe
Looking for a post workout snack or a quick & easy, healthy breakfast option that's high in protein? Say no more! Cue Kinetica Banana Protein Pancakes…
Preparation Time - 5 minutes 
Cooking Time - 8 - 10 minutes 
Servings - 2 (7 - 8 thick fluffy pancakes) 
Ingredients: 
For the Pancakes 
 
100g plain flour, spelt flour or gluten free alternative*
2 tsp baking powder
2 Scoops Kinetica Banana Whey Protein 
1 large whole egg**
200ml Low Fat Milk
Pinch of salt
 
For Toppings 
2 tbsp Kinetica Banana Whey Protein
1 tbsp smooth peanut butter
2 - 3 tbsp water to thin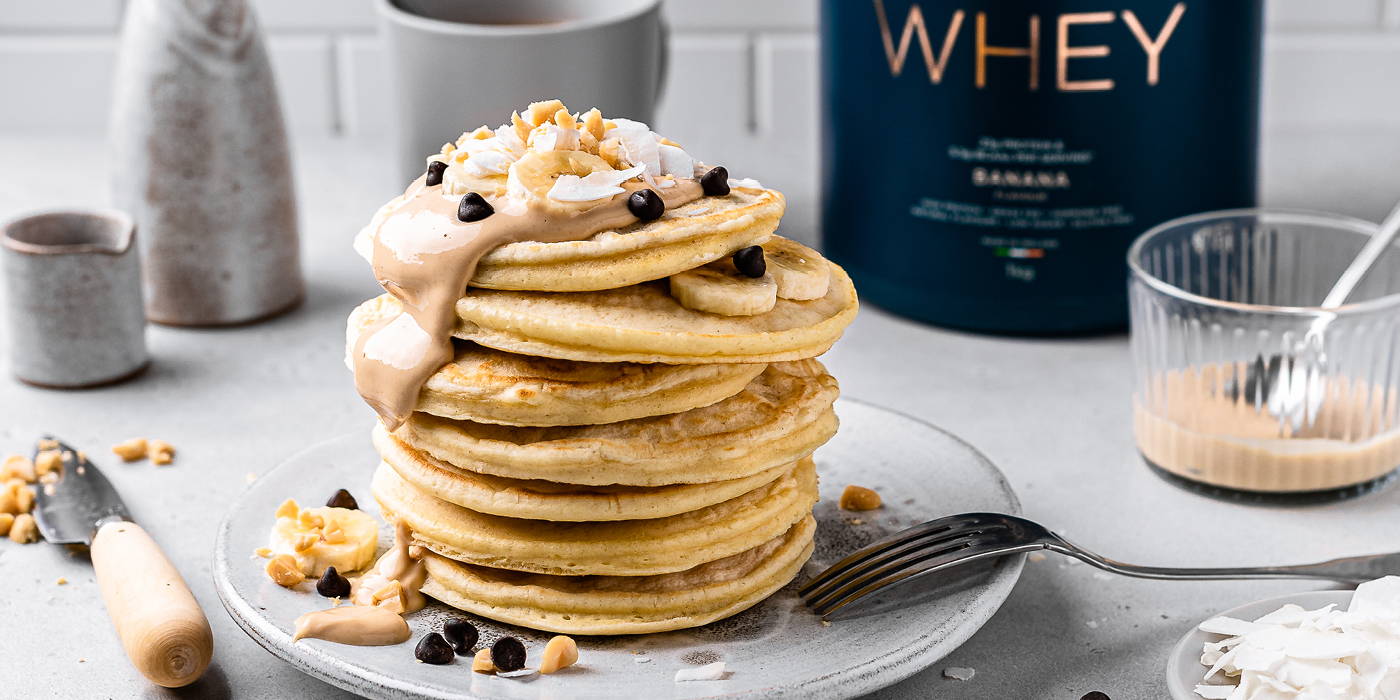 Method:
1. Whisk the batter ingredients together until smooth. You can also just quickly blend them together in a jug with a hand blender or in your actual blender.
2. Grease a large pan with spray oil or coconut oil.
3. Cook a scant ¼ cup (60ml) of batter per pancake. About 3 generous tablespoons of batter.
4. Allow to cook for just a couple of minutes before flipping and then cook for just a minute on the opposite side.
5. Whisk whey protein, peanut butter and water together until smooth.
6. Spoon over pancakes and top with some banana, dark chocolate chips, coconut flakes and chopped peanuts
*You can also use oats blended to a flour consistency. The texture will be a little heavier, but they will still work. 
**Just egg whites will create dry rubbery pancakes. 
Macros per serving: 
Calories: 365
Protein: 34g
Carbs: 40g
Fat: 6g